While we toil away behind the scenes creating Liquid Minded (it's looking good, by the way!), we're also steadily moving things forward on the business side. We've incorporated Nuance Labs Inc. in Delaware, assembled our board of directors, filed for a federal service mark, and are almost done with our business plan. I'll be talking more about these things in the future, but today I have something else to tell you about.
A few months ago, Andy and I set out to find a graphic artist to handle the branding design for this venture. Design is important to us, and while both Andy and myself have graphic design training, we wanted someone who could knock this one out of the park. We're so proud of what we're building, and we want that passion to show in every detail.
Since we began the project, we've taken the same approach each time we seek a new member for the team. When we were looking for Interaction Designers, we looked at popular web design sites, jotting down the names of people who were writing interesting things on the subject. We found [D. Keith Robinson](http://www.dkeithrobinson.com) of [Blue Flavor](http://www.blueflavor.com) through [this article](http://www.alistapart.com/articles/powertothepeople) on [A List Apart](http://www.alistapart.com). When we were looking for a Rails developer to assist me on the programming, we found Chris Wanstrath of [Err the Blog](http://www.errtheblog.com). The key is, we look not just for fancy resumes, but for people who are out there in the real world doing interesting things. "Look for evidence of achievement, and there you will find achievers."
This is the same strategy we used to find a branding designer. Our first thought was, "I wonder who designed the Firefox logo? That thing rocks." It turns out that the idea for the Firefox logo was a back-and-forth [collaboration](http://www.hicksdesign.co.uk/journal/branding-firefox) between a few people, but we found the guy who did the final rendering: Jon Hicks of [Hicksdesign](http://www.hicksdesign.co.uk/). After looking at his portfolio, we wrote him to see if there was common interest.
That was back in November of 2006. Here we are, in February of 2007, and I'm proud to say that we got exactly what we had hoped for. Jon just delivered to us a beautiful, elegant logo that represents the best qualities of Nuance Labs: attention to detail, simplicity, and sophistication.
Without further adieu: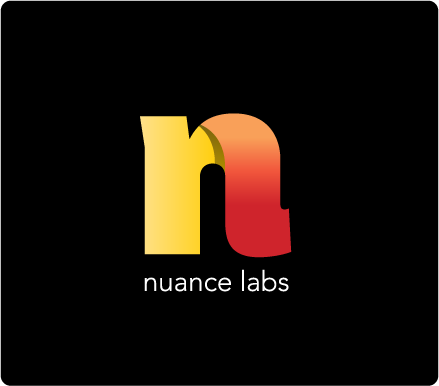 We love it, and we hope you do, too. Tell us what you think!